Stephanie Berlanga performs at the WEST END TRADING CO. IN SANFORD
2/23/2016
Written by Claire Contevita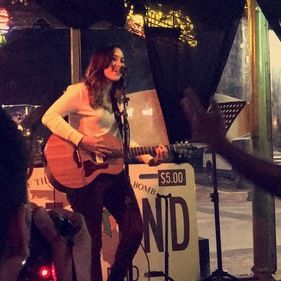 Tucked away in a quiet part of Sanford, Florida on a Monday night,  West End Trading Co. was buzzing with open mic night music, bar glasses clinking, and laughter. The stage lights were slightly dim (as if inspired by a Pinterest board) and a soft scent of cigarette smoke, beer, and delicious fifty cent wings blanketed the air, creating a very typical local bar atmosphere. The bar wasn't too packed but just enough for guests to have to wait in line to grab a drink and yell to their friends right next to them as they enjoy casual conversation. Again, it was a very typical atmosphere. But what stood out amidst the smoke, wings, and noise was a soft spoken artist with a very big and angelic voice. 
Stephanie Berlanga, fresh from a few days' worth of Hall of Fame performances, appearances, photoshoots, and a two day recording session at TSM Studio, hopped on stage with her guitar, smiled at the crowd, and introduced herself. A large crowd filed into the bar from outside (that crowd being 3300+Climbing interns and Stephanie Berlanga fans) to support Stephanie. The rest of the crowd – the local Sanford guests – continued to have fun amongst themselves, almost oblivious to the fact that such amazing talent just stood up in front of them. But by time Stephanie reached the chorus of her song "No Fool," the rest of the bar had quieted down and refocused their attention on Stephanie and her amazing voice. 
Three songs in and people, who never even heard of Stephanie, whipped out their phones to record her performance. Despite the loud crowd, when Stephanie sang a few covers from artists that inspired her over the years, guests could be heard mentioning, "she is so good! She sounds just like the the CD version...even better!" 
But alas, Stephanie's open mic night performance at the West End Trading Co. was finished. Or so we thought. Guests wanted an encore. People raised their bar glasses, clapped, and cheered for another song. Stephanie smiled at the crowd and strummed her guitar. For Stephanie, to have a crowd of complete strangers cheer for another one of her performances, this must have been one of the best feelings in the world. For 3300+Climbing, this was a huge success. To watch our artist grow over the past few months has been a whirlwind of creativity and success that definitely gives us bragging rights around campus. It was an awesome night over all. Stephanie was able to show off her pure talent and 3300+Climbing interns and Stephanie Berlanga fans were able to mingle together over a casual night of music. 
Huge opportunities are coming Stephanie's way. Those dim lights that surrounded Stephanie as she walked onto that stage in the middle of an amazing local bar will only get bigger and brighter from here on out over the course of her future and successful career.